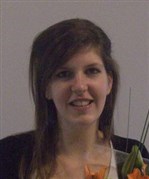 Kate Edney

Expires
Thursday, 27 June 2013
Run with Kate - Butterfly Foundation
Thank you so much to everyone who has donated so far!
I am running the 2012 Melbourne Marathon (the whole 42.2km) and am raising money for the Butterfly Foundation, which specialises in eating disorders. It's a topic close to my heart, and I'm sure you can all think of someone you know who has been affected.

I'm really looking forward to running (if a little terrified!). I've been following a pretty intense training schedule, and I've been blogging about my adventures leading up to the event. I am coming to the end of my training period as 14th October approaches.
The Butterfly Foundation supports those with eating disorders, and your donations can change the lives of those affected. I am passionate about negative body image, and support for those with anorexia, bulimia, and obssessive eating and exercise habits. Help me to make a difference and help others find their happy and healthy again.

ALL donations you give go directly to charity, so click on DONATE NOW!
Thank you for your support and helping to make a difference

The Butterfly Foundation
The Butterfly Foundation is Australia's largest community based organisation that provides support to Australians who suffer from eating disorders and negative body image issues. The foundation is dedicated to changing the culture, policy and practice in the prevention and treatment of eating disorders and to raising awareness of eating disorders as a serious social, medical and mental health issue. The Butterfly Foundation provides support for intervention, prevention, research and treatment programs.

To learn more, visit our website at www.thebutterflyfoundation.org.au or click here
FUNDOMETER
Target
$2,000
Raised So Far
$2,220
Biggest Supporters:
Anonymous: $200.00
Anonymous: $150.00