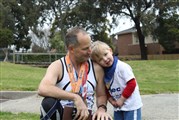 andre obradovic

Expires
Friday, 30 November 2012
Run with me to help the amazing kids
As usual I am doing my bit to help the amazing kids form CPEC. In the last 3 years together we have raised $22,000 for the kids. It has made a huge difference to them. $22,000 has paid for 7 mobility suits that cost around $3,200 each and the kids grow out of them quite fast. Will you help me this year raise $15,000. I will be working hard from now till the race to ensure I can get a PB of under 3 hrs 40mins, and also raise over $15,000.
Please dig deep and help me this year as the kids really benefit from your kid help. No matter how small it all helps.
I am honoured to be a part of this amazing race and helping a great cause, and I'd really appreciate your support in this endeavour.

ALL donations you give go directly to charity, so click on DONATE NOW!

Thank you for your support and helping to make a difference

CPEC (Cerebral Palsy Education Centre)
CPEC is a unique and specialised service for children and young people with Cerebral Palsy (and like conditions) and their families. We provide physiotherapy, occupational and speech therapy to children as well as enabling them and their families to access the essential equipment they need in their daily lives. The difference this can make to them is life changing.
It currently costs around $32,000 per child per year to receive the much needed "Learning for Life" education programs from CPEC. Funding of approximately $7,900 per child is received from the Victorian Government, however, parent fees, donations and fundraising is needed to meet the shortfall. This huge financial burden challenges CPEC families every year.  The government only funds 26% of our operating budget so we need your help to fundraise the remainder needed to ensure our kids inspiring journeys can continue. Your support is invaluable.
FUNDOMETER
Target
$15,000
Raised So Far
$13,460
Biggest Supporters:
Anonymous: $3,000.00
Andre Obradovic: $1,500.00