link copied to clipboard
saving changes, please wait..
page successfully updated
error saving changes
file size exceeds 512kb.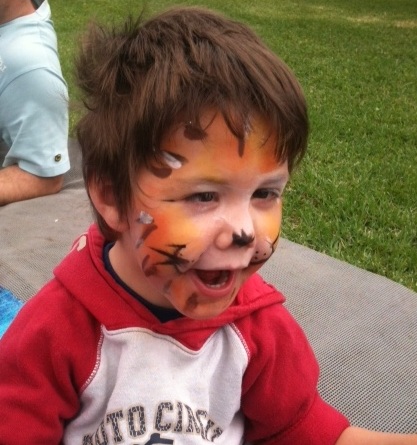 Raised by 0 people in days for CPEC (Cerebral Palsy Education Centre)
Caroline's Run for Lachlan
Story
On 14 October 2012 I will be running my FIRST half marathon as part of the 2012 Melbourne Marathon Festival and hoping to raise much needed funds for charity. This is a big effort for someone who only started running 18 months ago, but I ask you to read on to discover my motivation, and why my temporary pain will be worth every minute.
The charity I'm supporting is CPEC, the Cerebral Palsy Education Centre, which does fabulous work to with children affected by CP, to assist them in leading the most independent life they can.
This isn't just because CPEC are one of the official charities for this year's marathon, but because my dear friends Sinead and Sam are wonderful parents to little Lachlan, who attends CPEC. As the Centre relies heavily on fundraising efforts to maintain their services, every cent will help Lachlan and many more children and babies with CP.

I am truly honoured to be a part of this amazing race and helping a great cause, and I'd really appreciate your support in this endeavour.

ALL donations you give go directly to charity, so click on DONATE NOW!
Thank you for your support and helping to make a difference.
In the words of Sam and Sinead
"Our little boy Lachlan is a beautiful 3 and a half year old. The day he was born we knew something wasn't quite right. At the hospital we promised him we would do everything we could for him, little did we realise how much that would actually be…
He was a handsome little fellow with a big smile. He had a normal start to life but our first shock came at 18 days when he wasn't gaining weight. The first trip to hospital was traumatic but it turned out to be "nothing" so we though all would be ok. Lachlan grew like his peers but was always a little different – he slept more, wouldn't lie on his tummy, vomited a lot and didn't roll when the others started to move. But he was the best baby at cuddle time
At 15 months old the doctors finally listened and started to investigate. The little fellow has been through test after test, calmly letting doctors prod him, take blood and put him through sedation to take scans. He acts like a little trooper through it all. When he was 22 months old, we got the diagnosis of Cerebral Palsy due to brain damage. Of course we had missed critical time in Lachlan's therapy but we were finally on track.
Cerebral Palsy is a disease that has a profound effect on the muscles, in Lachlan's case his muscles are weak and he has little feedback from gravity etc and doesn't know how to control them.
Therapy and early schooling has been a feature of Lachlan's life. He doesn't get to play like the others - without guidance he didn't know how and still struggles to try new activities and learn how things work. We started physiotherapy & occupation therapy to help his little hands learn fine motor skills and speech therapy to learn to speak. He hated it, what little baby wouldn't?
We had to teach Lachlan to roll, sit, crawl, stand, cruise and finally walk. Each activity had to be broken down into individual movements and repeated over & over & over again. Finally he sat and then a few months later he was strong enough to be on his tummy and lift on all fours. He yelled when we made him work hard but he did it. Soon he was standing and had a little walking frame that the kids in nursery loved to steal and run around with.
At two and half years old he walked, it was the greatest miracle of our lives, and a monumental day for him. All his hard work was paying off. Since then, thanks to therapy, he can concentrate long enough to paint a picture or look at a book or play with playdo. He has become a prolific artist, producing 2 or 3 works a day. He can now run and jump and loves the trampoline in the garden. He can only say a few words so the family are learning sign language. He loves learning a new sign. We also have a picture language he is learning which will incorporate into a speaking computer for him soon. We are discovering he has quite a sense of humour.
Lachlan attends the Cerebral Palsy Education Centre (CPEC) which is a unique facility specifically assisting CP kids with therapy. They are the ones who have developed this picture language which has unlocked Lachlan from his shell. They push him (and us) hard but support us heavily with all the needs for Lachlan's life. We have a long list of things for him to achieve!
Government funding falls well short of being able to run world class facilities like CPEC effectively, and they need your help to fund additional equipment and therapists to help kids like Lachlan, have a chance at a quality of life that we all take for granted.
Please sponsor Caroline, as she undertakes her first half marathon, to generate sponsorship for Lachlan. Thanks for your support; it means a lot for our family & our little boy.
Sinead, Sam & Lachlan"
read more
All
Donations

0
Activity

0


There is nothing to show from any feeds at the moment.

There are no current donations or activities for this user.
The fitness feed has been disabled by the page owner.

CPEC (Cerebral Palsy Education Centre)
CPEC is a unique and specialised service for children and young people with Cerebral Palsy (and like conditions) and their families. We provide physiotherapy, occupational and speech therapy to children as well as enabling them and their families to access the essential equipment they need in their daily lives. The difference this can make to them is life changing. It currently costs around $32,000 per child per year to receive the much needed "Learning for Life" education programs from CPEC. Funding of approximately $7,900 per child is received from the Victorian Government, however, parent fees, donations and fundraising is needed to meet the shortfall. This huge financial burden challenges CPEC families every year.  The government only funds 26% of our operating budget so we need your help to fundraise the remainder needed to ensure our kids inspiring journeys can continue. Your support is invaluable.
read more
Created by
Caroline Bancroft
for CPEC (Cerebral Palsy Education Centre)

$4,723 of $3,000 target
0 people in days
Please make sure you are LOGGED IN. You can only join a Team Leader page if you are logged in and have an Individual page created. If you do, it will be displayed here once you've logged in. If you don't, please return to the 'home page' and follow instructions on how to create your Individual page.